Latest news, December 2023
Contact details
If the recording you want isn't here, or you have any other reason to contact me, email:

recordingrescue (at) gmail.com

Yes, sorry, not a clickable link but we've all got better things to do than dealing with spam emails from robots.
Important note about downloads
There seems to be a trend for the latest version of popular browsers to play MP3 files by default rather than downloading them, which doesn't work at all well with this site. Because of this, I have taken to ZIPping up all roles before uploading them, even when the recording consits of a single file (multiple files have been ZIPped all along). I will gradually be replacing MP3 files with ZIPs, but in the meantime, if you run into problems running out of download attempts because of this, don't hesitate to get in touch (email address near the bottom of this page).
All accompaniment tracks are clearly marked as ACCOMPANIMENT in their title. In addition to what's here (complete roles) I have accompaniments to over 1000 arias and artsongs on my computer, plus learning recordings for at least 200 arias. I am slowly adding these to the catalogue on this site.
I am sometimes asked if I charge extra for making new recordings to order. No! The charge is the same, £25 per hour of finished recording, to the nearest whole £ (slightly different calculation for short roles, below 24 minutes/£10). I also don't distinguish between 'standard' and unfamiliar repertoire. The only situation in which I might find myself having to charge a little more is if I have to go to inordinate lengths to get hold of a score. We'll cross that bridge when we come to it...
Finding roles
The easiest way to find a role is simply to search by name of role, opera or composer (all role titles include all three). Look for the magnifying glass icon at the top of the screen. However, please note that search does not work with partial words, so 'Suzu' will not find Suzuki.
Opera titles are in the original language. When a character has a 'job title' rather than an actual name, I have tended to put these in the original with the English in brackets, to aid with searching by name: for instance, 'Erste Dame (1st lady)'. I may not have been entirely consistent, so try both languages!

Since I launched this site, the Shopify search engine has been adjusted so that diacritics on letters are ignored, so if you want to search for Brünnhilde you can also enter 'Brunnhilde' and the role will still come up.

Of course browsing the site is also possible, for example using the collections below.

Please note: you only get two goes at downloading a file once you've bought it. Make sure you save the file somewhere you can find it! If problems occur due to interrupted downloads or something, drop me a line and we'll work something out.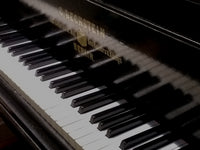 About these recordings
All the recordings have been made with decent audio recording gear (usually an all-in-one recorder similar to the popular Zoom range) and have been carefully edited to remove mistakes, fumbled page-turns and other interruptions. I'm quite prepared to believe the odd mistake remains and am always happy to be told of these. For greatest compatibility, they have all been encoded as MP3 files, using high quality settings.

Please note that these are intended as assistance tracks for professional and experienced amateur musicians and assume basic fluency in score reading and relevant languages.

Starting points for each section are announced by me, using rehearsal numbers if these are generally available in the usual scores, or page numbers if the work is in copyright and only one edition exists, or else the usual kind of pointers: 'four bars before the next entry' or 'the orchestral allegro' or something like that. Most of the longer roles are divided into separate tracks per act, in which case the download is a ZIP file which can be opened using any of the usual apps for that sort of thing.
Speeds: most sections are taken at roughly 'the usual' speed, but anything fast is slowed down somewhat for clarity. If in any doubt refer to performances on YouTube! (etc...) In recitatives, I play a fairly close approximation to written rhythms most of the time, again for clarity, and put in the most obvious appoggiature.

Pricing: all tracks are based on £25 per hour of finished recording, rounded to the nearest whole £ sterling. However there is a minimum charge of £10 (except in the case of some really short roles). If you want to buy multiple small roles within one opera, contact me for a discount. Some common role pairings (e.g. Bartolo and Antonio, often sung by one singer) are already available as a discounted package.
Roles in translation: I don't usually upload these unless a particular translation is practically standard (e.g. 'The Cunning Little Vixen' in English). In such cases the main difference is in the cues I give, but there may be minor differences in rhythm here and there. Any roles in translation are clearly labelled as such. If you want a recording done for a translation, get in touch.
Similarly, if you want just part of a role (one act or an aria, for instance) do ask.

Commissioned recordings are the same price, length for length, as those already made, but of course you'll have to wait. Ask and I'll do my best to give an accurate idea of delivery schedule.
I have also done a fair number of oratorio learning tracks, and other concert works for voice and orchestra. I've uploaded most of these, but do ask if there's something you're after.

PLEASE NOTE: all recordings must be downloaded and saved. You can't stream them off this site!
I wrote all the above and then realised that I had never said who 'I' am. Richard Black, repetiteur, coach and accompanist, at your service. Look me up on pianoaccompanists.com or on Facebook, where I'm sure we'll have mutual friends. (NB mine is a common name and there are loads of us on Facebook, but my public profile includes mention of Opera Learning Tracks.)
Just to give an idea of the sort of thing you'll be getting if you purchase one of these tracks, I have put a short example on YouTube: